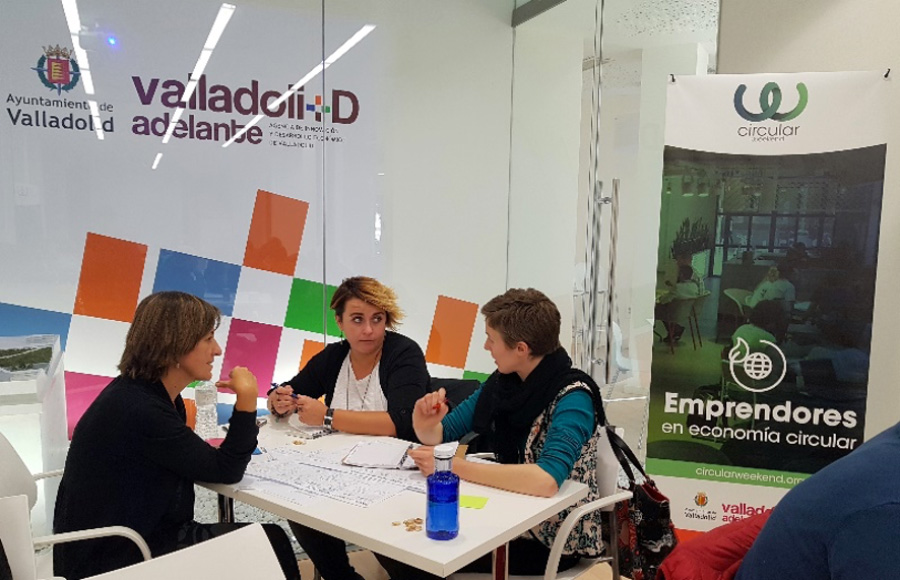 Circular city initiative
Circular Cities

Circular communities

Circular lab

Cities as Ecosystems

OECD
Valladolid was one of the first Spanish cities to commit to the circular economy. In 2017, the city signed the Declaration of Seville

, a document developed by Spanish cities to urge action to follow up on the Call of Cities for the Circular Economy

. After signing the declaration, Valladolid's Agency for Innovation and Economic Development started working on a roadmap to stimulate the transition to the circular economy in the city. The decision to assign this task to the economic department, instead of the environmental department, was deliberate as the city strongly believes that the circular economy can create opportunities for economic prosperity in the region.
Valladolid's approach to the circular economy
Unemployment is currently a big issue in Spain and Valladolid is no exception: in 2018, 11.7% of the population was unemployed, making this Valladolid's main social problem. The city authorities believe that circular activities can lead to job creation, as outlined in recent research. The circular economy is expected to lead to an increase of approximately 700,000 jobs in Europe by 20301. Valladolid wants to stimulate the setup of new, circular businesses and adapt current linear businesses models to circular ones. These changes are all expected to lead to the creation of new jobs. As the circular economy applies to many sectors, circular jobs can be created for both higher-qualified and lower-qualified parts of the workforce. For example, workers are needed for recycling and repair of products.
Valladolid has created a roadmap

instead of a strategy because the city believes a roadmap can lead to faster action. The Circular Economy Roadmap consists of several steps:
Decide on the approach for the circular economy and gain political support;
Map the flows of resources in the city, as well as relevant stakeholders and indicators;
Raise awareness about the circular economy;
Promote circular entrepreneurship;
Strengthen the international positioning of Valladolid as a circular city.
Building a circular community
As part of the roadmap, Valladolid launched a subsidy programme for circular projects. The aim of the programme is to create employment and economic prosperity by funding local circular initiatives. Key selection criteria for projects are the expected impact on Valladolid's local economy and expected new jobs created.
Each year, the city decides on the priority areas the projects should focus on. In 2019,these were plastics, textiles, and food. In addition, topics such as waste, water, energy, and mobility are always of importance, since they are linked to Valladolid's main urban policies. Due to COVID-19, no call for proposals was launched in 2020.
Four types of projects are eligible for funding through this programme:
Design, development, and delivery of circular training;
Dissemination of the concept of the circular economy;
Research studies or demonstration projects on new circular products or services;
Implementation of circular projects in the market.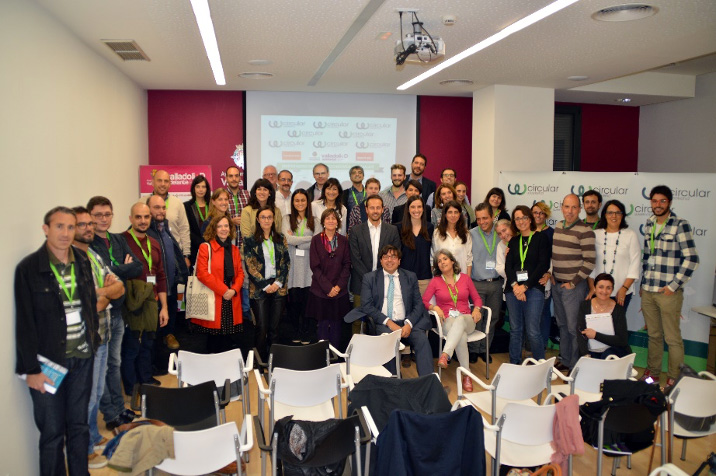 As the circular economy has become a better known concept, the focus of the recent calls for projects shifted away from dissemination and training to creating circular products and services.
Valladolid wants to do more than give grants: the city wants to create a circular community. To achieve this, the municipality regularly invites all beneficiaries of the call to meet, pitch their projects, and share problems they encounter. These meetings resulted in the creation of new circular projects. The sense of community is also fostered through the organisation of a Circular Weekend in which citizens can present their circular ideas. Municipal authorities choose a few projects presented during the weekend and provide them mentoring and advisory support to develop the ideas further. In the 2017, 2018 and 2019 editions, almost 100 participants joined these weekends, showing a good level of engagement of citizens.
Collaborating on a European level
Valladolid participates in several European projects and networks to collaborate with and benefit from circular economy experts at a European level:
Interreg CircularLabs : Through this project, circular labs are created in several cities. This includes the refurbishment of an old warehouse in Valladolid, which will serve as a co-working space for people to work on the circular economy. Entrepreneurs and start-ups are provided with operational resources such as physical spaces and networking opportunities to kick-start their circular activities. In addition, a self-assessment tool for SMEs and a marketplace  (in Spanish and Portuguese) were developed. This cross-border cooperation project is financed by the European Regional Development Fund through Interreg.
Circular Economy in Cities and Regions Programme : Through this programme, the OECD supports cities and regions in their transition towards a circular economy, including Vall The OECD has recently launched a report in which the state of the circular economy in the city was analysed. Read the report here .
Lessons learnt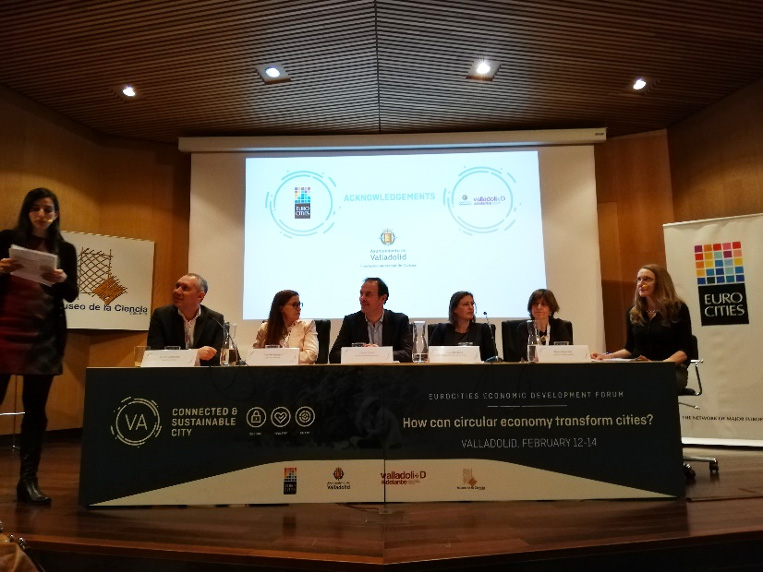 Based on the experiences of Valladolid, several lessons can be learnt:
Since circularity is a cross-sectoral topic, creating circular calls for projects allows for the inclusion of a range of possible sectors and projects besides recycling. As Valladolid shows, it is possible to include job creation as one of the criteria, as economic development is part of the circular economy. This approach leads to a win-win situation in which both the environment and social welfare are improved.
As a funder, you have the possibility to work on the creation of a circular community in your city. To achieve this, it is key that all citizens who engage in circular activities get to know each other. By organising networking events and meetings to pitch projects, the sense of a community is enhanced and the role of the municipality is extended from a money provider to an organisation that brings people together.
Circular calls should be adapted based on the current state of the circular economy in a city. While it makes sense to start out with spreading knowledge about the concept, the focus should gradually move away from awareness building to project development and implementation. Regular evaluations of previous calls also show what does and does not work, and calls can be adapted based on these results. For example, Valladolid now provides funding in stages instead of only at the start of a project, to make sure that beneficiaries have access to financing along the development of a project.
More information
Presentation on the Circular Economy in Valladolid

Contact