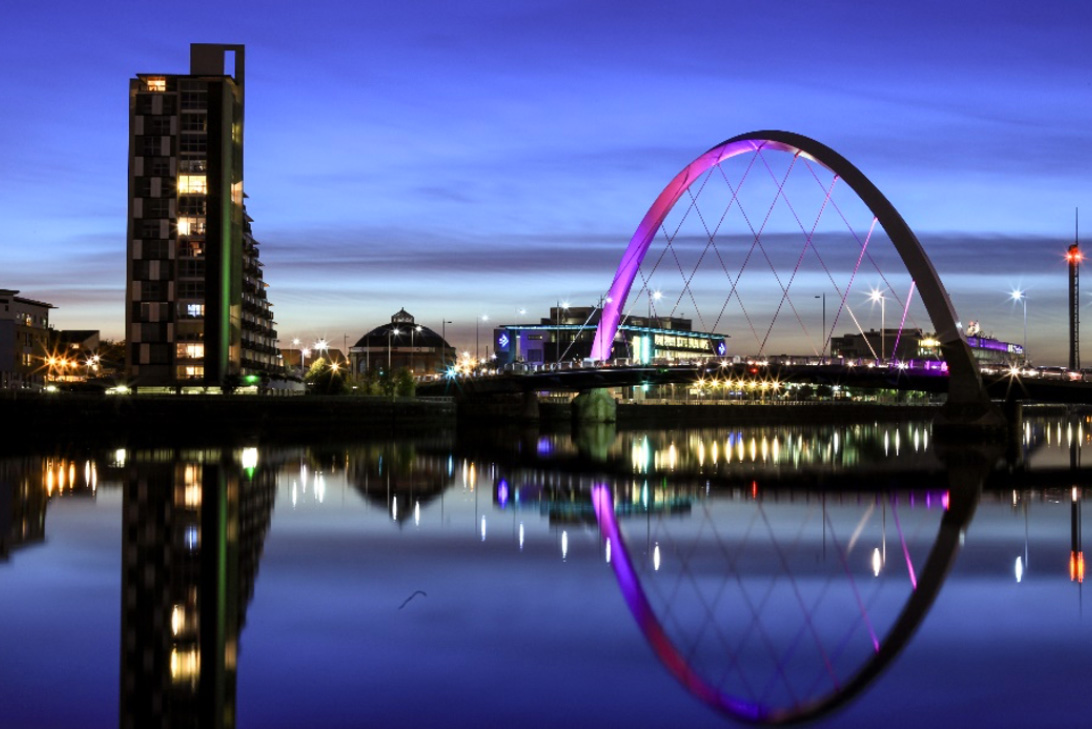 Circular financing scheme/programme
Circular Cities

Circular Funding

Cities as Catalysts

Cities as Ecosystems

European grants and subsidies

European regional development fund
In the last decade, Glasgow has become one of Europe's circular-city frontrunners. The circular transition in Scotland's largest city was led by Glasgow Chamber of Commerce

, in partnership with Zero Waste Scotland

and Glasgow City Council. This case study shows that businesses and other urban actors can play a role as circular city catalysts. Circular Glasgow, an initiative launched and hosted by Glasgow Chamber of Commerce, has proven to be an inspiration businesses and a valuable source of support for new initiatives.
Circular Glasgow inspires and connects companies
It all started with a question: "Where do we start in order to make Glasgow more circular?"
The question was raised by Glasgow Chamber of Commerce with Glasgow city council and Zero Waste Scotland, a not-for-profit environmental organisation funded by the Scottish Government, focussed on enabling a circular economy. They started answering the question with support from Circle Economy

, which is a social enterprise in the Netherlands that aims to accelerate the circular economy through the development of solutions, campaigns, and engagements. A first step was to scan all material flows in the city. Later, potential circular strategies were mapped and evaluated and an action plan was developed. 60 key businesses were invited for the launch of the results of the scanning exercise in June 2016, starting the dialogue on circular economy opportunities among Glasgow businesses. The results of the Circle City Scan can be found here

.
Circular Glasgow was established to create movement amongst the business community and city stakeholders to drive towards a circular economy. The initiative supports businesses through education and inspiration, providing networking opportunities and encouraging knowledge sharing. The initiative comprised of events, the publication of case studies on best practices, and offered circular economy assessments to businesses free of charge. To this end, Glasgow Chamber of Commerce obtained funding for Circular Glasgow from the Scottish Government (via Zero Waste Scotland) and from the European Regional Development Fund (ERDF).
Circular Glasgow's main activities
Circular Glasgow was initiated by Glasgow Chamber of Commerce to inspire businesses to innovate and become future-proof by adopting circular strategies. The initiative benefits from the collaboration and support of Zero Waste Scotland, Glasgow City Council and Circle Economy. Three main activities can be identified:
Circular Glasgow connects companies across the city by organising networking events and brokering one to one connections between businesses.
The initiative enhances the understanding among businesses of the different circular approaches and operational and organisational aspects of the circular economy using case studies, an online assessment tool, and a series of interactive workshops.
Circular Glasgow provides information on funding options that are available through the Circular Economy Business Support Service and the Circular Economy Investment Fund , both administered by Zero Waste Scotland, as well as support from other relevant organisations.
Funding SMEs to stimulate circular economy growth
Circular Glasgow provides support on two types of funding: the Circular Economy Business Support Service

and the Circular Economy Investment Fund

.
The strength of these two funding instruments lies in the pooling of different funding sources and different types of expertise. The Circular Economy Business Support Service is set-up with GBP 30.7 million from the European Regional Development Fund (ERDF) and GBP 42.7 million from the Scottish Government. Zero Waste Scotland (ZWS) administrates the funding instruments, while Glasgow Chamber of Commerce ensures – through its diverse business network – that the local business community is aware of the available funding. The two step set-up of the programme supports the growth of promising circular initiatives.
Lessons learnt
The examples of Glasgow Chamber of Commerce through Circular Glasgow provide some important lessons on how urban actors can play a catalytic role in the circular transition:
Cities are very responsive to circular ambitions and actions. They have all that is needed for innovation and the creation of new circular practices. Learn more on cities as circular ecosystems, here.
The city council is not the only counterpart to adopt a circular vision and strategy. A private (not-for-profit) organisation has taken the lead, in this instance a Chamber of Commerce – a voluntary membership organisation which supports businesses, mobilising direct commitment and drive from key implementation stakeholders.
We recommend starting with a sector which has high potential and is open to circular change. For Glasgow, this was the food and beverage sector. In general, sectors that have consumers as direct stakeholders are more likely to adjust quickly to the circular change.
Storytelling is an effective means of spreading circular economy principles and more importantly, to motivate a wide range of stakeholders (i.e. from investors to businesses).
Private funders are increasingly open to investing in the circular economy and cities can actively support this process further by disseminating good examples of circular practices. Learn more on front running commercial banks and on private equity investors.
More information
Circular Glasgow's website

Contact